Payment by credit card
Credit cards may be used for domestic and international orders.

A customer's credit card information is not stored in the Hobonichi Store, but is securely communicated to the customer's credit card company through GMO Payment Gateway, Inc.

Accepted cards are VISA, MasterCard, JCB, Amex, and Diners.








Credit card payment options are listed below and vary by credit card company.



Company
Single payment
Revolving payment
2 installments
Multiple installments
(3x, 5x, 6x, 10x, 12x, 15x, 18x, 20x, 24x)
VISA
OK
OK
OK
OK
MasterCard
OK
OK
OK
OK
JCB
OK
OK
N/A
OK
Amex
OK
N/A
N/A
OK
Diners
OK
OK
N/A
N/A
*Credit cards issued outside Japan typically only work with the single payment option.

*Some credit card payment options may not be available to some customers depending on the credit card contract.
*Revolving payments and payments in more than 2 installments will result in additional fees. Charges are different for each customer, so please contact your credit card company for more information.

Credit card registration

When placing an order, customers may choose to register their credit card for future orders. An option to "Register this credit card for future purchases" will show up on the check-out screen, so check the box next to this option to save your card information. Your card information will be automatically filled in during future orders. As your credit card information will be accessible when logging in to Hobonichi Store account, please guard your account password carefully.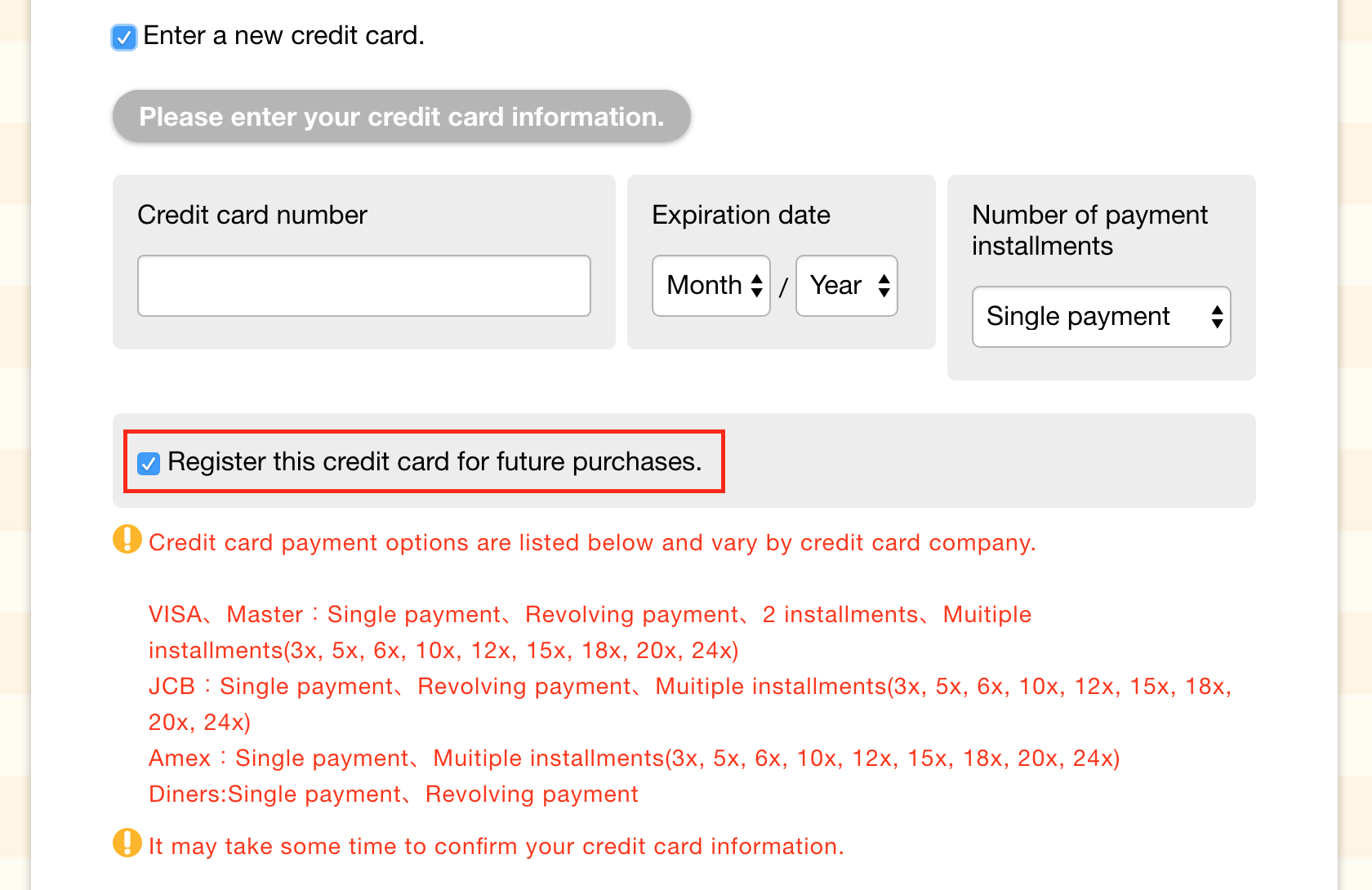 Important information

– The Hobonichi Store system requests a verification charge when an order is placed. It is only a verification, as the card will be charged the day after we prepare shipment.

– Please use only your own credit card .

– The payment due date for the charge depends on the credit card company, so please review your credit card terms of use for details.

– Only one credit card number may be used for each order number, so you cannot change the credit card number used for an order. To use a different credit card, please cancel your order before it enters shipping preparations, and place a new order using the new credit card.

– When modifying the contents of an order, the Hobonichi Store system cancels the original verification charge, and then requests another verification charge for the new amount. These are only verifications, as the card is not truly charged until the day after we prepare shipment .

– When cancelling or returning an order, the full amount will be refunded to the credit card used to place the order. Please note that depending on your credit card contract terms, your credit card company may charge its own fees. These fees are the responsibility of the customer.

– In the event that a cancellation or return is requested during the following month, the original order amount will still be charged through your credit card company, but a cancellation or charge adjustment will be applied the following month.

– For customers with a non-Japanese credit card, exchange rates and fees vary by credit card. Hobonichi is not responsible for currency exchange fees and other losses, so please review your credit card terms of use before ordering.

– The Hobonichi Store employs encryption methods to protect customers and credit card information.