About gift wrap services (for shipment within Japan only)
Gift wrap is available at 550 yen per order. We put all the products of an order into a Hobonichi Gift Box.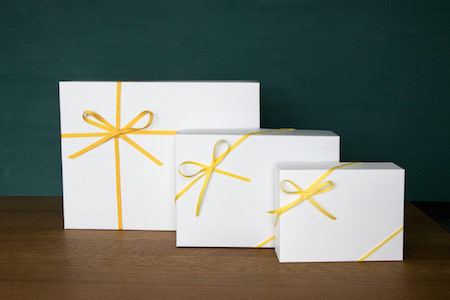 Please see here for details on the Hobonichi Gift Box. (Japanese only)

-If an order contains any products that are not available for gift wrapping, the entire order cannot be gift wrapped.

-Please note that some products such as books and DVDs may have the price printed on the product itself.

-Hobonichi Gift Box come in small, medium, and large, but the size cannot be requested. Hobonichi Store will determine the appropriate size and decide which one to use.

-All products in an order will be placed together into the gift Box. Products in a single order cannot be wrapped separately.

-If the entire order will not fit in one gift Box, one large bag will be filled, and items that don't fit will be included as-is.

*Gift wrap is not available for international orders.